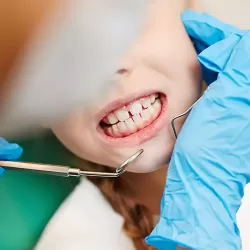 A trip to the dentist should never be stressful or scary for kids. We want your child to enjoy their experience at Royal Family Dental and ask to come back, even when they don't have an appointment. Our team is warm and committed to keeping your kids' teeth exceptionally clean. And, if anything needs to be fixed along the way, we take care of it gently and get it done right the first time.
We love helping children and teens learn the good oral habits that lead to a lifetime of smiles. We are here to help you find the best ways to keep your child's smile healthy, and we will take the time to get to know you and your child so that we can provide the best possible care. 
Children of all ages receive treatment at Royal Family Dental, and we make it a point to ensure their comfort during the time of their visit! We work with parents and their kids to provide them with enjoyable, broad-ranging, and quality dental care treatments.
Pediatric Dental Care
General Pediatric Dentistry

Baby Exams
Cosmetic Dentistry
Dental Cleanings
Dental Sealants
Digital X-Rays
Emergency & Dental Trauma Care
Fluoride Treatments



Restorative Care

Dental Crowns
Dental Fillings
Root Canal Treatment
Tooth Extractions



Sedation Dentistry

General Anesthesia
IV Sedation
Nitrous Oxide ("Laughing Gas")



Sports Mouth Guards